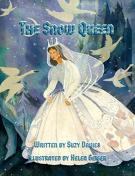 LitPick Review

The Snow Queen is an adventurous fairy tale book about how an evil snow queen manages, with the help of an ice wizard, to possess both children and teenagers, to try to fulfill her misplaced thirst for fame, wealth, and love. The queen's hidden secret is that she feels unlucky, having never found someone who could truly love her. In the book, her first victim is an innocent and fatherless teenage boy named Adam. The queen traps Adam within a kaleidoscope that the ice wizard skillfully makes for her. She then continues to sell several of them at the village toy shop with the aim of changing the children's feelings about her so they see her as strong and magical. Cerise, Adam's sister, attempts to find her lost brother who is manipulated by the snow queen, and she also reveals that others in the village are a part of a family that is actually the rightful rulers of the island instead of the evil snow queen. Cerise attempts to fulfill the book of the ancients and allow the Roma family to become rulers again. Cerise's friend, Bryony, and her boyfriend, Sean, are also relatives of the royal family called Roma. Even though Sean does not know his true standing as a king of the island, it is through Adam's disappearance that a series of events leads to this realization. In the end, the author reveals the story bit by bit, which leaves the reader yearning to know more and more about what happens next. Some questions readers will want to read and find the answers to are: How does Adam contribute to the downfall of the snow queen? How does Cerise find her brother? and Will the Roma royal family gain back their power over the island?
Opinion:
An outstanding character in this book is Bryony, Cerise's friend. I really liked her character because despite being in the second trimester of her pregnancy, she manages to take Cerise through her journey of rescuing her brother and also conquers the snow queen by killing her with a sword. The author enhanced the creativity of the book by adding fairy songs into the story, such as the one sung by Alfair Lanahan, a traveling salesman, in a song called, "A Beggin' We Will Go." I enjoyed the song about fairies at the bottom of the garden who asked for nothing more than a little bread. I also liked that throughout the book, the author brings out courage as the main theme, such as when Cerise, despite being a child, dares to look for her missing brother Adam.
Explain your content rating:
I give this book a 5 star rating it is simple to read, interesting, and the flow of events and episode are perfect.
KEYWORDS
CHARACTERISTICS AND EMOTIONS:
ACTIVITIES, HOBBIES, PLACES, AND EVENTS: