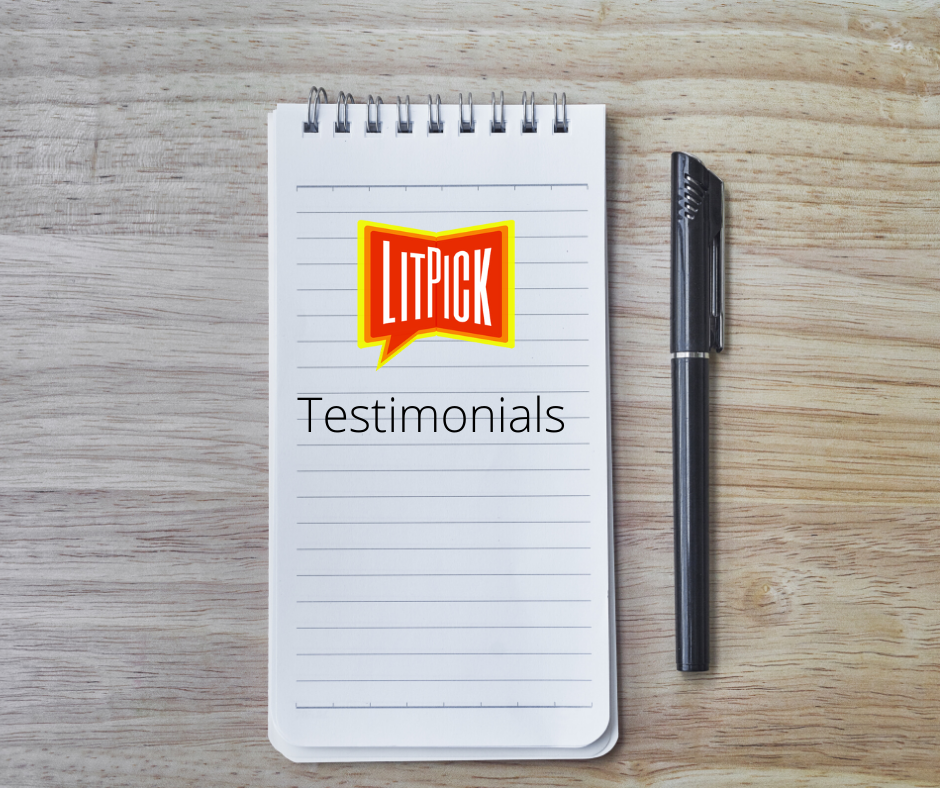 "Gary worked with me, and with a teen reviewer, to produce a video review of my teen book 'Left Out' for Litpick.com His technical know-how and open-ness made the process fun and Gary was quick to understand the core mood of my novel and what would appeal to its teen audience. He went the extra mile and made a preview video that I could use on my own YouTube channel so we could market as partners. Thank you, Gary!"
Author Jean Gill - Someone to Look Up To, Left Out Book 1: Looking for Normal, Fortune Kookie Book 2: Looking for Normal, Queen of the Warrior Bees,
---
"These are reviews by teens and children about books written for them. Their reviews are useful to parents and authors (I am both) because these young readers are the target audience and their voices are the most important. LitPick is lit (as the kids say.)"
MB - Facebook
---
"LitPick has been an amazing site since the beginning, and I am excited to see what else I will be reviewing for it in the future."
ToShu0911 - California
---
"As a longtime reviewer and underwriter for LitPick, I have seen and reaped the benefits of LitPick in several ways. Gary's ongoing enthusiasm and diligence become evident when working with LitPick. As a homeschooled student, writing reviews for LitPick strengthened and focused writing and critical-thinking skills that later prepared me for many aspects of professional life. It also gave me the writing background and confidence to pursue different paths in the realm of journalism and professional critiquing, leading me to write for local newspapers in a variety of ways. Writing reviews for LitPick encouraged me to develop and share my opinion, which considerably helped me when making critical analyses in my college classes and elsewhere. This is a valuable skill that writing reviews for LitPick can instigate and nurture in writers of all ages. As an underwriter, I have seen the review-evaluation side to LitPick and know that my positive review-writing experience is not a singular one. I can fully attest to LitPick's honest-review integrity policy and passion for promoting reading, writing, and opinion-formation among youth. I have found my time with LitPick (in each role that I have held) to be thoroughly rewarding due to these facts. Gary has formed and maintains a unique literary-based company that acts as both a fantastic resource for educators and self-motivated students to encourage reading and to strengthen writing, and a promotional resource for authors to get their books read and honestly reviewed by their intended audience."
GB - LinkedIn
---
"LitPick is very special to me because they have given me a voice to express myself. I am able to respectfully express my thoughts through writing book reviews. What I love about LitPick is that they offer so many books from different genres that I am able to immerse myself in every type of book imaginable. I am very glad that I have had the opportunity to be a part of LitPick."
snehayamsani - Iowa
---
"Gary is the CEO of one of the most interesting and compelling companies I have ever interacted with as an author. LitPick matches readers and writers but goes beyond that. They actually find young readers to review books for young adult authors, they post these reviews, they make videos from these reviews, and do author interviews all for a reasonable price. My experience in working with LitPick and Gary's staff has been flawless from start to finish. Gary runs a tight ship and is quick to respond to any questions in a timely manner. As anyone who had worked with young adults knows, this is not an easy thing. I would recommend Gary or LitPick to anyone."
JC - LinkedIn
---
"If you write books for young readers, there's no better litmus test on how you're doing than getting reviews from students. I love LitPick!"
JSS - Facebook
---
"LitPick was a great place to have my books reviewed. Gary has created a unique, exciting, multifaceted forum for students, authors, librarians and educators to engage with each other through books. Any student can apply to become a book reviewer for Litpick's international audience, bringing authors, readers, and educators together from all over the world. As an author, I was pleasantly surprised at how easy it was to work with Gary, the staff, and reviewers. I highly recommend engaging with this site on a regular basis if you are a student, parent, teacher, librarian or author and love books!"
Author Hart Getzen (aka Sean Austin) - Echo's Revenge: The Ultimate Game, Echo's Revenge: The Other Side: Part 1
---
"I love everything about LitPick! The variety of books to read and genres is awesome; if you can't find something on LitPick to read, you didn't want to read at all."
KK - Indiana
---
"Gary Cassel dedication to literature, in particular young adult literature, is amazing. He is revolutionized the way in which authors can get their words out to potential readers. His integrated website, video services, and promotional assistance is nothing short of phenomenal. Gary, and his merry band of men and women, provide wonderful service to authors whether they are tyros or accomplished best sellers."
Author Jamie Dodson - Black Dragons Attack: A Nick Grant Adventure - Book 4, Flying Boats and Spies, China Clipper, Mission: Shanghai,
---
"LitPick has been a phenomenal experience for me. For months I enjoyed reading the teen book reviews that my peers had written about new and upcoming books that I couldn't wait to check out at the library. When I found that I had an opportunity to review YA books of my own, I was thrilled. Becoming a reviewer for LitPick has enhanced and broadened the types of literature I read. I am so glad to be part of such a great community in which people from around the world enjoy the wonders of reading."
MW - Massachusetts
---
"LitPick student reviewers are the best. It's great to learn the opinions of those for whom the books are actually written."
Author Rachelle Burk - Don't Turn the Page, The Tooth Fairy Trap, Walking Fish, Miss Crump's Funny Bone, Painting in the Dark: Esref Armagan, Blind Artist
---
"It was a great experience having students review my book. I highly recommend LitPick to other authors, and to all students to become reviewers. You have a fabulous program to encourage literacy."
SB - Facebook
---
"Gary has a passion for getting books into the hands of students and helping authors promote their titles. He works tirelessly to create and grow a platform for students to share their voices with the world by providing them with opportunities to write for an authentic audience. Gary has an amazing ability of juggling many projects at once, and he creates eye-catching book review videos for authors. He is dedicated, innovative, and driven."
TL - LinkedIn
---
"I love LitPick. Not only do I have an opportunity to benefit from the free books I receive, but I also get to improve my reading and writing skills. I think that LitPick encourages young adults to read because they have a chance to see what other young people think about books. I feel it is an excellent reading and writing program, and I am honored to be a student book reviewer."
KL – California
---
"Wow! This is an awesome business for getting your book into the hands of readers and getting the word out. Very professional, friendly and personable. Totally recommend them. Reviews are honest and heartfelt - they actually read the books! - and posted on their home site along with Amazon and Goodreads. Definitely worth every penny."
Author Donna White - Bullets, Blood and Stones: Book1 - Stones Trilogy Series, Arrows, Bones and Stones: The Shadow of a Child Soldier: Book 2 - Stones Trilogy Series, Spirits, Graves and Stones: Book 3 - Stones Trilogy Series
---
"LitPick is an excellent site that promotes reading and writing among preteens and teens by offering the students the opportunity to read books for free!"
JD - Facebook
---
"Gary produced an EXCELLENT book promotion video for my first novel! Thank you, Gary!"
TD - LinkedIn
---
"I was recommended by a friend to submit my book to LitPick -- and am glad I did. My reviewer did a thorough job, and I was treated courteously by the site manager."
GD - Facebook
---
"Gary is not only one of the hardest working people in the world of children's literature, he is truly getting thousands and thousands of kids reading! By connecting kids with great new books a zillion children will learn grow and progress faster in their education. There is nothing he can't do, and it's a honor to know him and have worked with him."
Author Brad Tassell - Don't Feed the Bully,
---
"Your book reviews for teens are great. I also like that you always talk about new teen books and then also show student book reviews on these books. You really have a lot of teen books to read on LitPick. Thanks!"
DR - New Jersey
---
"A fantastic service for authors who want to gain feedback on their books and connect with their readers."
TS - Facebook
---
"Gary oversees a fabulous program, LitPick. What better idea than to have students read and review books geared to their own demographic? I submitted two of my books-- "Danny and the DreamWeaver" and "Meet My Famous Friends" --and found the experience very rewarding and helpful. Receiving feedback from students aids authors in their endeavors while giving students an opportunity to read new and exciting books. I was elated to receive outstanding reviews, but added to that were the videos that Gary made for my books that were posted on YouTube. It's a tough market for authors to compete in and gain attention amid the avalanche of works being published, so this is a win-win situation for students and authors. Thanks Gary and LitPick!"
RD - LinkedIn
---
"I asked LitPick to consider reviewing my first book, Enter If You Dare, and the student who read it did a wonderful job. Authors who are looking for reviews and teenagers who are looking for a good book, look no further. LitPick is it."
AL - Facebook
---
More Buzz About LitPick




LitPick Received Gold Award
from Mom's Choice
LitPick Received Best Wesbite Award
from AASL
LitPick Received AiA Best Website Award
FROM
EDUCATORS & PARENTS
FROM A LITPICK
GROUP SPONSOR
FROM AN AUTHOR
WHO HAS SUBMITTED
READING BOOKS
FOR REVIEW BY LITPICK