Queen of the Warrior Bees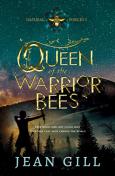 Queen of the Warrior Bees
Epic eco-fantasy from the award-winning author of The Troubadours Quartet
One misfit girl and 50,000 bees. Together they must change the world. As the Mages of the Citadel fight amongst themselves and prepare for war against the Forest, Mielitta, a despised servant, has her own battle to face. Bastien and Jannlou, the boys who terrorised her as a child, have grown into their status as Mages and she cannot escape them forever.
In desperation, she flees to the forbidden Forest and its dangerous attractions. Her scent angers thousands of bees and, although she survives their attack, she has changed. A strange bee symbol glows on her thigh and her senses are altered. She learns that her connection with bees enables her to summon their aid and gives her the power to shift shape.
This new-found bond works both ways and the bees need Mielitta's help as the rift widens between Forest and Citadel. Can one girl and a colony of bees reunite Man and Nature, or is the split irreversible?
Block Nature out and she'll force a way in.
Book Details
Genre:
Animals
Fantasy
Paranormal