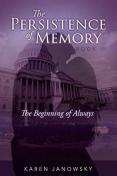 LitPick Review

The final book, The Beginning of Always, closes the incredible trilogy created by Karen Janowsky. The story of Nina and Daniel and their mission to save the world is ending. The end of the trilogy brings a plethora of unexpected events. Paul, Daniel's old friend, continues his mission to write all of history. However, while the WISE group tries to save and preserve the original unfolding of history, unexpected deaths result. Unexpected and hidden love stories are uncovered, and they transform enemies to allies. The last book shows the heartwarming growth of Daniel and Nina's relationship; however, they struggle with desire, possessiveness, and their duty to the WISE group after an unexpected change of authority. The final chapter of the trilogy merges the riveting love story of Daniel and Nina, our best heroes, with suspenseful fight scenes to produce a spectacular story full of adventure that could possibly rewrite history permanently.
Opinion:
The Persistence of Memory Book 3: The Beginning of Always was definitely the best book of the trilogy. The characters evolved over the course of the book's events, and they all had revelations about their past, their current relationships, and their lives as superheroes. These enlightening discoveries allowed readers to see the characters' human conditions throughout the book. While they struggled with inner shortcomings and external conflicts, they also embarked on new journeys of love and destiny. Additionally, the events in the novel keep readers engaged, and every fight makes readers worry during character losses but celebrate during their victories, big or small. Moreover, this book held my interest the entire time, and the author flowed from each character's perspective during action scenes to the more raw and tender moments. Overall, this book was the best book in the trilogy because of the characters' growth and the riveting action and events. I am sad the story is over, but I will remember these characters and their love story forever.
| | |
| --- | --- |
| | Support small bookstores by purchasing this book here through bookshop.org - thank you! |
Explain your content rating:
Extreme sexual content. Some violence. Language.
KEYWORDS
CHARACTERISTICS AND EMOTIONS:
ACTIVITIES, HOBBIES, PLACES, AND EVENTS: