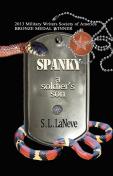 LitPick Review

When Spanky's father gets drafted in the army Spanky has to deal with his mom. He has to look after her and take care of her. To top it off, he is feeling pretty bad himself. Can he deal with school, his mom, and his own feelings? In school, he has a crush and he is being bullied. When his grade goes on a camping trip, he gets in a sticky situation with the bullies. To survive he needs to man up and help the bullies and himself to survive the night.
Opinion:
I think this is a really good book because it really shows the relationship between a kid and his dad who is in the army. Spanky shows perseverance, which is a very good character trait. It's hard when you are down about your dad leaving, but taking care of your mom too just makes it worse. It also has a great storyline because there are multiple small climaxes, but the best is the big one.
Explain your content rating:
There are no bloody parts and nothing that is offensive.
KEYWORDS
CHARACTERISTICS AND EMOTIONS:
ACTIVITIES, HOBBIES, PLACES, AND EVENTS: