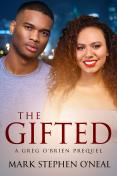 Age Range -
Mature Young Adult
LitPick Review

The Gifted: A Greg O'Brien Prequel is coming-of-age fiction that will appeal to readers looking for a short young adult drama. Greg O'Brien, a gifted college student and also a part-time employee at McDonald's, is devastated when his high-school sweetheart, Rosalyn, cheats on him at the end of the school year and leaves him for some rich guy.
His best friend, Horace, helps Greg return to normal and deal with his insecurities. Amid the crises life throws at him, Greg eventually becomes a responsible person who overcomes all odds. From being the best man in Horace's wedding to supporting his mom and sister, Greg spends an eventful youth finding solace in friend and fellow student Jennifer Mason.
Opinion:
Stephen's narrative has many characters, and I like the interactions between them as well as the plot's complete character development. Young readers will love the party scenes while also relating to early adulthood issues such as graduation or job searching. Themes of friendship, love, family, and reconciliation adorn the pages.
I would call this a story with a moral, since it teaches two valuable lessons: 1) Hard work is usually rewarded, and 2) people we intimatey know are often the ones who hurt us, while help sometimes comes from those we don't know as well. From small surprises in love to deep heartbreaks in sorrow, this book is a fast-paced page-turner that inspires readers to appreciate the little things in life that accumulate to make big differences in the future.
Explain your content rating:
This book contains some profanity, sexual comments, and references to drugs and alcohol. Parents, teachers, and librarians might want to read these books before recommending them to students.
KEYWORDS
CHARACTERISTICS AND EMOTIONS: