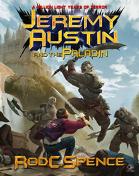 LitPick Review

Jeremy has made his way all the way across the galaxy to the planet where his dad and brother are, and his troubles have just begun. The difficulties and obstacles on his path pale in comparison to what is to come. He is faced with hostile aliens, a planet that is alive, betrayal, and magic. When he and his friends arrive on the planet, they must deal with getting separated from their security posse and being chased by aliens in unknown terrain. However, Jeremy and his friends have changed; they are smarter, stronger, and have magic. Will they be able to control and contain their powers? Will they be able to survive on a planet meant to kill them? And will they be able to achieve the goal they set out to accomplish: find their parents?
Opinion:
This is an interesting book that builds on the first in the series in a way that keeps you hooked. The characters are complex with twists that are beautiful in their unpredictability. The plot is consistent with the first book, and the author introduces characters in a smooth way. The world that is designed in Jeremy Austin and the Paladin is beautiful and creative. This story is a creative twist on a classic invasion story. The story leaves you wanting the rest of your questions answered and more information. Overall, I would recommend this story to anyone with a want for teenagers defying classic stereotypes and fighting for their lives.
Explain your content rating:
There is a bit of blood and gore involved, as well as some magical things that could be offensive to some people.
KEYWORDS
ACTIVITIES, HOBBIES, PLACES, AND EVENTS: