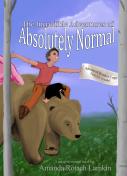 Genre -
For Reluctant Readers
LitPick Review

Because his mother needs help after his father's death, eleven-year-old Albert moves in with his cousin Samuel's family. Although the boys are about the same age, the only thing they seem to agree on is that neither is happy with the new arrangements. Everyone says Samuel is perfect: his mother, his teachers, and all the girls at school. On the other hand, Albert is completely normal in every way and feels overshadowed by his seemingly flawless cousin.
And yet, when a strange and curious place called Gwytthenia is threatened, and the King begins searching for a hero to save them, it is Albert, not Samuel, who is kidnapped by two fairies one stormy night. And after something goes wrong with the portal, Albert is separated from the fairies and ends up in a freezing wasteland, his only company being a small penguin called Malarkey.
So begins an extraordinary adventure and a test for survival. Together, Albert and Malarkey's goal is to get to the King's palace. Hopefully, the King will know how to get Albert home. Along the way, Albert will meet many unusual creatures and characters including centaurs, dwarfs, dryads, fauns, a winged bear, a warrior girl, a bold unicorn, a carousel horse, a legion of bloodthirsty spiders, and a menacing creature called a Chordra. Through all this, one thing is clear: the Kingdom is in great danger. But Albert is unsure. Even after all he's been through and all he's done, is he really the hero everyone is looking for? Or would his cousin Samuel be a better choice? For once in his life, Albert feels special. But is this real? Did the fairies make a mistake, or do they really believe that he, Albert Robert Thomas Jackson, Absolutely Normal, can be a hero?
Opinion:
I liked the Adventures of Absolutely Normal because it shows that even an ordinary, everyday person can become a hero. Even though Albert knows he's not exactly the ideal hero, he still doesn't give up. He learns to believe in himself, that everyone is special in their own way, and that everyone has strength within them, but they have to have courage to find it. He also learns that whether he really is the one the King is looking for or not, it doesn't matter because he can choose who he is regardless of what anyone else thinks. This book has some characteristics of familiar fairy tales but with fun twists and turns. The author does a great job creating the characters, each with a lot of personality. The way she writes is exciting and holds the reader's attention, similar to The Chronicles of Narnia by C.S. Lewis. This is a book that people of all ages will enjoy.
Explain your content rating:
I didn't notice anything offensive in the book.
KEYWORDS
CHARACTERISTICS AND EMOTIONS:
ACTIVITIES, HOBBIES, PLACES, AND EVENTS: