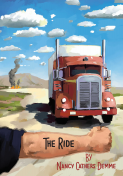 LitPick Review

WATCH THE LITPICK BOOK BRIEF VIDEO!

Nancy Cathers Demme's book, The Ride, tells a sad story, which is so suspenseful and descriptive that it quickly grabs the reader's attention and won't let go! In 1952, Diego Ramirez is a 15-year-old runaway who assumes he killed his abusive stepfather in a barn fire that he intentionally set. He's upset with his mother for not protecting him better at home and decides to hitchhike all over Texas. Most of the chapters describe Diego's experiences with people from all walks of life who pick him up along the road. Some are scary or crazy, while a few would take advantage of him if they could get away with it. Others are helpful in huge ways that Diego doesn't expect. When he likes them or respects their authority, he introduces himself as Diego Ramirez. More often, he encounters people he doesn't trust, so he stays anonymous or even pretends he is Pedro Gomez, a singer. Sometimes, he tells them he is looking for his father, who abandoned their family years before.
The book is a coming-of-age story about a troubled teen who is struggling with his strong emotions. He is desperate to be a man but doesn't know how to get over his past. He keeps trying to make a way for himself in spite of his circumstances.
Opinion:
The Ride is best suited for older teens or young adults to read. The book is easy to understand, but it has mature content that could upset younger, sensitive readers. I liked reading about all of the different people that Diego meets in his travels. They're either mysterious, or they practically tell their own story. I think how each chapter only shares glimpses of Diego's personality, thoughts, and feelings is a unique way to give readers a well-rounded perspective of the person he becomes by the end of the book. The story shows us that our thoughts and feelings are often shaped by our surroundings and the people we are around. It is a good reminder about how powerful an emotion like hate is, how it can corrupt how we act, and how important forgiveness is. Although the book is about the stark reality of life as a runaway, I like that it also focuses on how help for terrible situations can be right around the corner.
Explain your content rating:
The main character Diego Ramirez is an abused runaway. Some of the people he meets hitch-hiking don't have good intentions, and a few others don't live moral lives.
KEYWORDS
CHARACTERISTICS AND EMOTIONS:
ACTIVITIES, HOBBIES, PLACES, AND EVENTS: