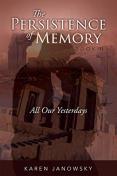 LitPick Review

The Persistence of Memory Book 2: All Our Yesterdays continues Book 1's love story between Daniel "Lionheart" and Nina, or Inanna. WISE is still on the hunt for ancient artifacts, and throughout the novel, readers see new sides to some of the members. Now that Nina's true identity as a demigoddess is revealed, she embraces the discovery and even reveals some truth about Daniel's shared past.
New enemies emerge as surprising groups team up to find the Eye of Enlil, which can rewrite history entirely. Despite constant challenges and adversaries, Daniel and Nina's love is strengthened, but they must choose between their love and saving the world. Blood is shed, old friends appear, and sacrifices are made throughout this gripping book. Who is this mysterious character from the past? What will the couple sacrifice for their love?
Opinion:
The second book in this series picks up the eventful story set up in the first novel extremely well. Readers see the adventurous love story continue, and my love grows for the couple as they explore new territory in their relationship. Additionally, some unanswered questions from the first book are finally explained, but other events occur that leave readers wondering how the story will unfold in the last book.
Similar to the first novel, the mythology, history, and creativity are captivating. Giant spiders, goddesses, female independence, and some steamy romance keep readers invested and entertained throughout. However, the story includes multiple love scenes that almost outnumber the action of the story, and some seem unnecessary to the plot. Yet, this shortcoming does not completely negate the entire novel's quality. I enjoyed this book, and I cannot wait to see what the final book holds for one of the best action-packed love stories.
| | |
| --- | --- |
| | Support small bookstores by purchasing this book here through bookshop.org - thank you! |
Explain your content rating:
Extreme sexual content and language.
KEYWORDS
ACTIVITIES, HOBBIES, PLACES, AND EVENTS: