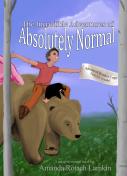 Genre -
For Reluctant Readers
LitPick Review

In The Incredible Adventures of Absolutely Normal, cousins Samuel and Albert are living together after the death of Albert's father. Since Albert's mother needs family support, Samuel's mom reorganizes their house, moves Samuel to an attic bedroom, and lets Albert use Samuel's old room. Both boys are 10 to 11 years old, but that's where the commonalities end. Samuel Christopher McCubbins seems almost perfect, while Albert Robert Thomas Jackson is as ordinary as can be. While the cousins settle into their new routines, the King of a special place called Gwytthenia is looking for a hero to save his land from a horrible evil. He gives a fairy, Moonlor, and her partner, Dewdron, the McCubbins's home address, and they inadvertently kidnap Albert instead of Samuel as was intended. When something goes terribly wrong with the portal that stormy night, the three are separated, and Albert winds up in the snowy mountains, cold and alone except for the company of a penguin named Malarkey. They live together awhile as Albert recuperates, and when it's time for him to move on, Malarkey reluctantly agrees to go with him.
Little do Albert and Malarkey know this is the beginning of a long, fantastic adventure that forces them to use their wits. Living off of the natural resources of the land when they can, they camp out most nights and entertain themselves with stories. By day, their goal is to travel north toward the King's castle. Albert hopes the King will help him get back home. Along the way, he and Malarkey meet all sorts of unusual characters and creatures, many of whom are helpful and friendly. Several warn them that the kingdom is in trouble, and a couple of times, they have to go to battle to save themselves. They're sidetracked so much that almost every chapter offers a surprise. Some of their experiences are great fun, and others are sad. Throughout the book, both Albert and Malarkey courageously face hurts and fears, and they ultimately learn a lot about life, nature, friendship, and themselves.
Opinion:
I enjoyed reading The Incredible Adventures of Absolutely Normal. It's an awesome fantasy with many elements of an old-fashioned fairy tale. This is the first book in a series, so it will be interesting to learn how everything works out in the end. The narrative is written in an upbeat, whimsical way, but at the same time it is suspenseful with numerous twists and turns. I like how subtly a few Bible themes are woven into the plot, so the story feels familiar. It's perfect for 8- to 12-year-olds because it moves along at a steady pace, holds the reader's attention, and has detailed descriptions that bring the story to life. Also, the characters are imaginative and full of personality. I think the best part of the book is that the main characters know they aren't perfect, but they still strive to do what's right in situations even when they feel uncomfortable or scared.
KEYWORDS
CHARACTERISTICS AND EMOTIONS:
ACTIVITIES, HOBBIES, PLACES, AND EVENTS: