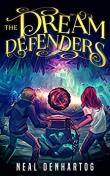 LitPick Review

WATCH THE LITPICK BOOK BRIEF VIDEO ON YOUTUBE!

Where do we go when we dream? It is a question asked from our youngest years. This question is answered in a creative and captivating way by showing a world in which some can control the Dreamscape, the place we all go to dream. However, with dreams come nightmares. Nightmares are evil beings that torture others, but something infinity worse than nightmares is loose in the Dreamscape.
Nolan, who thinks he is a normal human, is confronted with obnoxious headaches and then introduced to his conscious dreams. When some girl comes to him in his dreams with stories of wonder and weird tales of protecting the people's dreams, he's not inclined to believe her. However, a turn of events leaves him chasing the darkness through the Dreamscape. Furthermore, he thinks that he cannot die while dreaming, but is that true? Can he save the dreaming world and dreaming population from evil? Read more in the intriguing story titled The Dream Defenders.
Opinion:
The Dream Defenders is written in a unique style that is interesting and beautiful. The story flows in and out of the living and the dream world, yet it is fairly easy to follow where Nolan is at any point in time. However, sometimes it is difficult to follow who people are and how they are either related or have interacted with others. Nevertheless, the story captures your imagination from the get-go with strangely lovable characters and a world that you go to but can't fully explain. The Dreamscape is something of dreams because it is an intriguingly abnormal description of a very normal part of our lives: sleeping. Overall, I very much enjoyed the book because of its ability to draw me into the story and hold me there.
KEYWORDS
CHARACTERISTICS AND EMOTIONS:
ACTIVITIES, HOBBIES, PLACES, AND EVENTS: