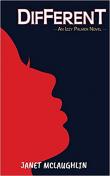 LitPick Review

WATCH THE LITPICK BOOK BRIEF VIDEO ON AMAZON!

Isabella Palmer does her best to be a "normal" 8th grader despite being diagnosed with Tourette Syndrome at age 5. No one knows of Isabella's diagnosis except a few select teachers and her best friend, Abbie. Isabella is fine with that. But when she tries out for softball and Abbie seems to find a new best friend, she just might have to reveal her diagnosis. In time, Isabella learns that everyone has something they are hiding, and trust can only exist when all walls are broken down.
Opinion:
I loved Different because the complex plot conveys the chaos of every middle schooler's life. Each reader will learn something new from this book by Janet McLaughlin. The author does a great job conveying emotions so readers can feel what Isabella experiences. As someone who knew nothing of Tourette Syndrome, I learned a great deal and thoroughly enjoyed Different.
Explain your content rating:
There is nothing offensive in this book.
KEYWORDS
ACTIVITIES, HOBBIES, PLACES, AND EVENTS: