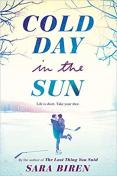 LitPick Review

A Cold Day in the Sun is a touching romance filled with fun and teenage love. Holland Delviss has skated and played hockey her whole life. Now as a junior in high school, she is playing varsity on the boys team. She's never really been singled out before for being "the girl." She was just always another player who was decent at the sport and hung out with the guys. Now that her team is chosen for a prestigious statewide tournament, the pressure sets in. Holland finds support from the person she least expects (and hates): team captain Wesley "Hot Sauce" Millard.
Opinion:
A Cold Day in the Sun is a beautiful and touching romance. The book's characters are realistic, and they have you wishing the best for them by the end of the first chapter. These authentic characters bring a sense of being on the scene as they go about their lives. Their personalities work well within the narrative, which portrays an overriding theme that demonstrates working extra hard to earn something that no one like you ever has before can pay off in ways you wouldn't imagine in your wildest dreams. I recommend this book to any romance lover or part-time hockey fan.
Explain your content rating:
A Cold Day in the Sun contains sexually suggestive content, multitudes of unacceptable language, and other very mature content.
KEYWORDS
CHARACTERISTICS AND EMOTIONS: