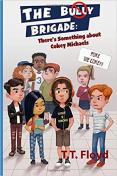 LitPick Review

WATCH THE LITPICK BOOK BRIEF VIDEO ON YOUTUBE!

There's Something about Cokey Michaels is the second book in T.T. Floyd's The Bully Brigade series for ages 8-12. Cokey Michaels is the new boy at Misfit Elementary, and his odd behavior has everyone worked up. Many of the kids are frustrated with his rude honesty and lack of self-control but are bewildered by it because Cokey's also a genius at doing math in his head. One boy named Bustah feels sorry for him right away and starts wondering what could be going on with him. About the same time, Cokey encounters Andy Pitts who bullies him mercilessly. Later, Penny Proudfoot blames him for grossly tampering with her science fair project. Both kids' parents even make a scene outside the school and at a town hall meeting that attacks Cokey's character. All the while, Bustah and his friends form a bully brigade, which as individuals and as a group help diffuse many of the emotional situations that pop up out of nowhere. The teachers intervene in the altercations they see happen, and Principal Strongarm sets up mediation sessions for the kids with Mrs. Belcherton, the counselor, to straighten out some of the chaos. You'll have to read the book to see what all happens, why, and how it works out! There are so many surprises there's never a dull moment in the story!
Opinion:
The fast-paced mayhem and rambunctious characters in There's Something about Cokey Michaels make it an easy and funny book to read, but it also contains a serious message about the effects of mistreating others and the importance of trying to understand one another. It reminded me that what we say and how we act affects how others feel! Teachers and parents probably would like the book because it teaches kids the best way to make a situation better is to communicate with one another and try to work together.
I think kids ages 8-12 will be able to relate well to the story because they may have already seen similar but less exaggerated situations happen to kids at their own schools. Maybe they've even been the person who is different and misunderstood. In that case, this book gives kids hope that one day they can be better accepted in their group or eventually find a different group that has no problem accepting them at all. I think the best part of the story is the positive, upbeat way it shows how we are all unique and have something to offer the people we see every day. We are the ones who must choose whether we are going to share the best side of ourselves, the worst, or something in between!
KEYWORDS
CHARACTERISTICS AND EMOTIONS:
ACTIVITIES, HOBBIES, PLACES, AND EVENTS: