The Bully Brigade: There's Something about Cokey Michaels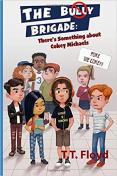 The Bully Brigade: There's Something about Cokey Michaels
When new kid Cokey Michaels transfers to Misfit Elementary, the students, and even the Bully Brigade, don't know what to make of him. For one thing, he never makes eye contact, and he's always twitching his fingers. He also gets angry at the smallest things - like cold food in the cafeteria.

The Brigade makes it their mission to find out what's going on with Cokey. They don't have much time though, because the two worst bullies in school - Andy Pitts and Penny Proudfoot - have set their sights on him, and they will make his life miserable until he's driven from Misfit Elementary for good...

There's something about Cokey Michaels is the second book in The Bully Brigade series.