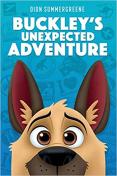 LitPick Review

WATCH THE LITPICK BOOK BRIEF VIDEO ON YOUTUBE!

Buckley's Unexpected Adventure by Dion Summergreene is a fantastic story about a German Shepherd named Buckley who is a detector dog for the Australian Border Force at the Brisbane International Airport. He and his handler, Adam, work with their senior partners, Sarge and Bill, to make sure nothing and no one dangerous enters Australia. Buckley's excited to do the work, but he's disappointed this Christmas because Sarge and Bill are retiring. His best friend, a mouse named Bo, tries to convince him to head over to their retirement party, but Buckley and Adam have been asked to do a last-minute inspection.
After Buckley detects an odd smell and hears a slight scratching sound, he alerts Adam. Sadly, they find numerous statues with chloroformed chameleons inside, and only one has survived along with two turtle eggs. This upsets Buckley so much that he wants to find out who did this and shut down the entire smuggling operation. When he can't get the chameleon off his mind, he asks Bo to help him go see her in the Quarantine Department's Exotics Room. While he's there, he learns the chameleon's name is Ciara, and he decides to make sure she gets back to her family in Bangkok where part of the smuggling operation takes place. Little does he know, this decision will cause a chain of events that quickly evolves into a bold and entertaining crime-solving adventure.
Opinion:
I really liked reading Buckley's Unexpected Adventure, and I think it would make a great movie! It's fast-paced and action-packed with straight-forward characters that have so much personality. This makes the book easy to follow and never boring. It's interesting to read because it explains the effects of animal smuggling from the perspective of the animals. It helps readers better understand the seriousness of this problem around the world and how it can disrupt the balance in natural animal habitats.
At the same time, the book is often funny. The characters find themselves on a madcap adventure where it is impossible to predict what will happen next. Through it all, it's even full of lessons for real life. I like Buckley's strong sense of right and wrong and how he overcomes doubts he has in himself because he's so determined to be a good friend to Ciara, no matter what happens next. Other relationships among the characters are good examples of how easy it is to misjudge others and how we all need forgiveness sometimes. I also like how the story emphasizes the importance of persevering through problems because uncomfortable situations usually have something to teach us that will make us better people in the end. That is why I think this well-rounded book would be perfect for ages 8-12.
KEYWORDS
CHARACTERISTICS AND EMOTIONS:
ACTIVITIES, HOBBIES, PLACES, AND EVENTS: