Buckley's Unexpected Adventure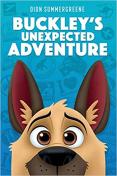 Buckley's Unexpected Adventure
Buckley, a young, enthusiastic detector dog, was about to clock off from his regular shift at the Brisbane International Airport when he uncovered a shipment of smuggled exotic animals.

Discovering that all but one, a chameleon named Ciara, and two turtle eggs, had perished on the long journey, Buckley makes it his mission to track down who is behind the smuggling ring and ensure no more helpless animals are killed.

A fire is ignited within Buckley and he is determined to return Ciara to her home and reunite her with her family.
Breaking all of his obedience training, Buckley, Ciara and a charismatic Californian mouse named Bo, set out on an international adventure that propels them from a world of structure and safety into dangerous situations.

With fast-pace, witty humour and suspense, Dion Summergreene takes young readers on a crime-fighting adventure like no other to discover an exotic world through the eyes of man's best friend. Buckley's Unexpected Adventure shines the spotlight on animal conservation, the importance of teamwork, friendship, and working through your fears to achieve the impossible.