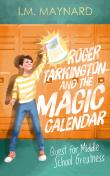 LitPick Review

WATCH THE LITPICK BOOK BRIEF VIDEO!

Roger Tarkington and the Magic Calendar by I.M. Maynard is an entertaining look at daily life for students at Jefferson Middle School. Roger, a new 6th grader, is excited on the first day of school. He's on a special mission to make his name great, and he thinks Kyle the Vile Brossman, who bullied him incessantly in elementary school, was redistricted to the brand-new Franklin Middle School. Imagine Roger's surprise when he realizes Kyle moved over the summer. Not only do they have to go to the same school again, but Kyle doesn't waste any time getting back to bullying Roger.
The confrontations aren't working out in Roger's favor until he discovers he has a magic calendar at home. When he touches a date on it, he can travel through time to that day, so he can try to improve the outcome of the circumstances. While he's figuring out how this mystery works, he realizes altering a situation can help people but inadvertently hurt them too.
All in all, the book is a diary full of pranks and the normal ways middle school kids gang up on each other, hold grudges, betray, and moments later befriend one another. Every chapter's title comes from a list of Roger's 65 greatness tips that appear at the end of the book. The tips are good advice for how people should act. Through all of the story's twists and turns, readers see there are many ways to be great, situations sometimes aren't what they appear to be, and truth should always win out over holding a grudge and getting even.
Opinion:
Roger Tarkington and the Magic Calendar captures what middle school is all about! The ability to travel through time for the chance to turn embarrassing situations around is a fun way to add suspense to the story. The chapters read like entries in a diary, so the book is fast paced. Basically, it's about the outrageous ways teens react to situations, how they treat each other, and their interests. I liked how the chapter titles hinted at what comes up next in the story and the clever way each one named a tip on Roger's 65 tips for middle school greatness list. I think the book is best for 8-12-year-olds who think they are ready for middle school but still have a little while to wait before they can go. The characters are a good mix of girls and boys, and they mimic personalities commonly found at school. They're well-rounded and can be responsible, but they're often impulsive and overly emotional, which adds quite a bit of humor to the story. I'm also glad it was written the way it was because sometimes we all need advice and reminders about the life lessons the characters experience in this book.
KEYWORDS
CHARACTERISTICS AND EMOTIONS: