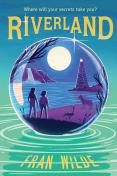 LitPick Review

Sisters Mike and Eleanor have always known three things: 1) They can't ever talk about house magic, or it won't work anymore. 2) They have to hide under the bed when their parents fight and break things. 3) Stories are the only way to escape the world around them.
With these three things in mind, as their parents launch into yet another loud and violent disagreement, the sisters crawl under the bed and find a leak in the floor that is making a puddle. But this is no normal puddle—when they touch it, they fall through into a whole different world, where birds (or dreams, as they are called here) are fighting against the smoky night "mares." Eleanor and Mike are more important to this conflict than they realize, and they must take action to make sure the nightmares don't escape into the real world. Will Mike and Eleanor succeed, or do they get trapped in the River forever? Find out in this riveting tale, Riverland.
Opinion:
Riverland is a beautifully written story of two sisters just trying to survive their parent's stormy marriage. While being entirely fictional, it brings to the light a very important topic of domestic discord. Many children struggle with their parents fighting or even splitting up. Riverland's narrative brings an urgency to the issue, making it very real and relatable even with the book's fantastical setting. The characters are so realistic that I was rooting for them from the moment I opened the book. I recommend this book to any friend or reader looking for a good thriller with solid morals.
| | |
| --- | --- |
| | Support small bookstores by purchasing this book here through bookshop.org - thank you! |
Explain your content rating:
Riverland contains no inappropriate material.
KEYWORDS
CHARACTERISTICS AND EMOTIONS:
ACTIVITIES, HOBBIES, PLACES, AND EVENTS: