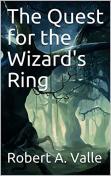 LitPick Review

When Chaant, a mage, gets injured and trapped outside the city walls of Almarra in the midst of a horde of demons led by a great Demon Lord, he has no choice but to flee. He heads toward the mountains, hoping to find a wizard who will give him a powerful enchantment in exchange for a quest. On the way, he runs into an unusual young woman named Anjelica. He teaches her some tricks of a mage, but she is more powerful than anyone he has ever seen.
Meanwhile, Chaant's twin brother, Ky'el, joined a group of skilled young men to defend the city. On one of their excursions outside the walls, Ky'el is separated from the group. He heads off in search of Chaant, hoping that he can find his brother before the Demon Lord and his forces overwhelm the city completely. Will the brothers return in time to save everything they hold dear, or will they be too late?
Opinion:
The Quest for the Wizard's Ring is an intense story of bravery and friendship. The relationship between Chaant and Ky'el is a beautiful representation of the love between family members, especially siblings. The author, Robert A. Valle, uses wonderful word choice and imagery. For example, "But the beauty and quaintness of the small town and fields were marred by a great wall that surrounded the town." The Quest for the Wizard's Ring was an enthralling read. I couldn't put it down!
Explain your content rating:
There is some blood and gore that could be disturbing to some kids under age 12.
KEYWORDS
ACTIVITIES, HOBBIES, PLACES, AND EVENTS: