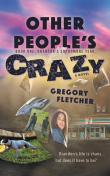 LitPick Review

Other People's Crazy is a book following the story of Brandon Filips and his chaotic life. Brandon is the largest person in his class, yet he's also the timidest and often feels invisible despite his size. One day, he gets bullied by the smallest kid in class, but a video the bully's friend recorded and edited makes it seem like Brandon is the bully. Now Brandon is being sent to the principal's office with his mother for something he didn't even do. Little does Brandon know, though, his life is about to change forever. Things are going to get wild for Brandon, especially with a crazy mom to deal with. Add in a dash of karma, a splash of Slurpee, and an unexpected dog, and Brandon is in for the ride of his life. Will Brandon get off the hook of the bullying accusation? Will Brandon ever be able to forgive his bully? Find out in this amazing book!
Opinion:
Gregory Fletcher wrote a heartwarming story with many life lessons to be learned. In this book, the reader is taught the value of family and friendship. Most importantly, the reader learns that people are very complex creatures, and you shouldn't judge a book by its cover.
One of my favorite quotes from the book is: "He shrugged, 'Funny thing about other people's crazy,' he said, as if choosing his words wisely, 'If you listen close, it's not always crazy. But true listening is hard.'" We're told that sometimes the things that people do that seem crazy aren't always crazy.
Brandon's character was very realistic in this story. It's almost as if Gregory opened a window into the mind of this average high schooler and brought the story to life. I would recommend this book for ages ten and up.
Explain your content rating:
There was a kid mauled by a dog.
KEYWORDS
CHARACTERISTICS AND EMOTIONS:
ACTIVITIES, HOBBIES, PLACES, AND EVENTS: