LitPick Review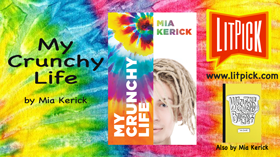 Despite going to the same school, Kale Oswald and Julian Mendez have no idea the other exists.
Self-proclaimed hippie Kale Oswald hopes that by joining a human rights organization, he will finally feel like he belongs. Instead, he must face the confusion of his own sexuality. In between tie-dying his T-shirts with organic dye and dealing with his "annoying" cousin Hughie, Kale tries to understand his feelings for Julian.
Though Julian Mendez puts up a tough front, just like Kale, he wants to belong. But he finds that hard when the only thing he really wants to be is a girl called Julia. Amid bullying at school, Julian decides to stand up for himself by joining a human rights group.
What will these two teenagers have to learn from each other?
Opinion:
I love how the author wrote about the real-world problems that teenagers face every day. It got very emotional, but I liked that it wasn't sugar coated. My least favorite part was when Sydney - the bully - made fun of Julian for not being comfortable in his own body. Just because someone is different doesn't mean they should be treated differently.
I would recommend this story for high school students and older. The content may be a little hard to understand for younger audiences. If you liked Mind Over Bullies and/or The Perks of Being a Wallflower, then this is the book for you!
Explain your content rating:
Some faith oriented people may find the subject of LGBTQ offensive.
KEYWORDS
ACTIVITIES, HOBBIES, PLACES, AND EVENTS: