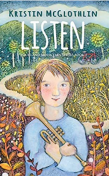 LitPick Review

For nearly his entire life, it's just been Gwilym and his siblings, and he's perfectly content with that. Recently, his stepmother joined the family, and he is content about that as well. But there's a missing piece that he can't refute: his mother. His mother abandoned him when he was just a baby to play in her jazz band. Although Gwilym tries not to overthink it, the underlying resentment and curiosity has been bubbling for a while now.
When Gwilym's mother calls him out of the middle of nowhere inviting him back into her life, things begin to get complicated. On the one hand, Gwilym's siblings would be hurt if he met her secretly. On the other hand, it's nearly impossible to deny the opportunity to meet his mother again. And as Gwilym starts practicing the trumpet and drawing parallels between his and his mom's interests, he must navigate old memories to make way for the new.
Opinion:
Listen was a warm, feel-good story that taught lessons about family, no matter how cohesive or broken. Although they were often conflicted over their mother, Gwilym and his siblings were fierce in their love for one another. The novel navigated this idea of 'lost and found' family through the eyes of a young teenager beautifully. I haven't read many books centered around jazz band or music in general, so that factor was alluring to me as well. The one thing I would say is that there was more family bonding scenes than real plot, so while I found the family bonding scenes enjoyable, I wish the story moved along faster. Overall, however, this is wonderful for anyone coming of age.
KEYWORDS
CHARACTERISTICS AND EMOTIONS: