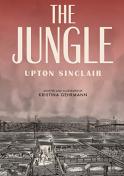 LitPick Review

The Jungle is a heartbreaking story of a Lithuanian family that comes to the United States in hopes of finding a new life. They are filled with positive anticipation of life in this unfamiliar land. Jurgis and his fiance, Ona, desire to find a home in which they can raise the family of their dreams. But harsh working conditions and confusing contracts take them by surprise, causing them to wonder if this was all a big mistake.
As the family members they brought with them disperse in many different directions, the two struggle to survive. With so many opportunities in front of them and no chance of going back, they take on a cruel, unfamiliar world with strength neither of them knew they had. Their story is told in The Jungle by Upton Sinclair and adapted by Kristina Gehrmann.
Opinion:
This is a wonderfully adapted version of Sinclair's book. The illustrations' lack of bright colors brings out the importance and power of words, emphasizing the injustices of Chicago's meat-packing industry in the early 1900s. The family's struggles in The Jungle accurately portray the very real past of the United States. Gehrmann's illustrations give a renewed perspective on the older classic. I recommend this book to any friend. It's a must-read for lovers of historical fiction.
Explain your content rating:
This book contains material dealing with prostitution and inappropriate worker/employer relationships.
KEYWORDS
CHARACTERISTICS AND EMOTIONS:
ACTIVITIES, HOBBIES, PLACES, AND EVENTS: