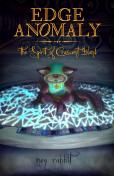 LitPick Review

Twelve-year-old Edge has lived her entire life on Crescent Island. She is a Forax, an anthropomorphic creature similar to a squirrel. She lives in a treehouse overlooking a big lake surrounded by mountains. In the summer, the valley is full of life, and this is when Edge loves to visit the Grotto where she studies the insects and other animals she finds there. Edge wonders: Are there any other animals that can talk the way she and her mother can? Her question is answered when she meets Xalma the amph, a gryphon named Jessop, and a rover named Sole. Sole explains that Edge is different from other Forax, and Edge realizes that Mana, her mother, has been keeping secrets from her. Suddenly, the world seems so much bigger, and there is so much she doesn't know. With this newfound knowledge, Edge begins her journey to Cowrie to discover the identity of her mysterious past. What is the true identity of the father she never knew? In what ways does she differ from the other Forax? And if she truly is so different, what is her purpose?
Opinion:
I really enjoyed Edge Anomaly. The characters are interesting and full of personality. The author's descriptions were vivid, and she did a great job creating the exotic and magical world the story takes place in. The story was written at a good pace, so it didn't feel too slow or too rushed. Unlike some books, this one was very unpredictable, and I had no idea how it was going to go. I liked the plot twists, and I enjoyed reading about Edge's adventures.The vocabulary index at the beginning was helpful too. Anyone who likes books about animals, science fiction, and other worlds will not be disappointed with Meg Rabbit's original and compelling story.
Explain your content rating:
There was nothing offensive in the book.
KEYWORDS
CHARACTERISTICS AND EMOTIONS:
ACTIVITIES, HOBBIES, PLACES, AND EVENTS: