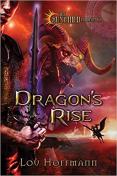 LitPick Review

WATCH THE LITPICK BOOK BRIEF VIDEO ON YOUTUBE!

Dragon's Rise is the fourth book in the Sun Child Chronicles following Luccan and his harrowing adventures in Ethra. Luccan has just slain his mother, who had become a horrifying, evil creature, and has also defeated a good portion of her wraith army. Unfortunately for Luccan, there is no time for him to relax and learn more about how to be the Suth Chiell because the creatures behind his mother's transformation are still relentlessly attacking Ethra.
The new enemy is a much more grave threat than anyone could have guessed, and not even Thurlock is sure about their chances of winning. In an attempt to gain more allies for the upcoming battle, Thurlock is heading to Nedhra City with Luccan. Thurlock will take as much time as he can to teach Luccan how to be more adept with magic. Upon arriving, they are faced with even more challenges than they could have expected, and there are very few allies to be found. With dangers and death around every corner, how will Luccan be able to master his magic, and how will Thurlock be able to learn more about their unknown adversaries? Find out in this thrilling book!
Opinion:
Lou Hoffmann has created an amazing world and amazing characters, and it just keeps getting better with every book! Each book seems to end with an event that has me wanting to read the next one ASAP. The world is vivid, the characters are relatable, the story is well-written, and the fight scenes are intense (in a good way). This book seems to flow properly; there aren't any scenes that make the reader think, "Wait, how did that happen?" Another thing I like is that it includes the prologue and first chapter to the next book. This tells the reader that the next book is already 'in the works' and that it will be just as good as all the others. I would recommend this book to anyone who enjoys reading about fantasy and wants an immersive experience.
Explain your content rating:
There was some killing and death.
KEYWORDS
CHARACTERISTICS AND EMOTIONS:
ACTIVITIES, HOBBIES, PLACES, AND EVENTS: