Dragon's Rise (The Sun Child Chronicles Book 4)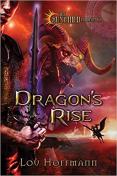 Dragon's Rise (The Sun Child Chronicles Book 4)
Sequel to Ciarrah's Light
The Sun Child Chronicles: Book Four

Five days after his sixteenth birthday, Lucky—or Luccan, as he's known in the Sunlands of Ethra—cut down a horde of wraiths with the help of his magical, living blade, Ciarrah. Then they ended the worst undead of all—Lucky's mother, Liliana, or rather the evil creature she had become. Now he needs a chance to rest, but he can't catch a break. The otherworld invaders want to take Ethra as their new home, and one defeat hasn't even slowed them down.

Ancient wizard Thurlock continues to help Lucky learn about his unique magic as they travel together, but when they reach the capital city, they find few allies and too many Sunlandian traitors. They're forced to flee, but their discouraged spirits lift when they're joined on the road by an old wizard friend of Thurlock's and some new young allies. Lucky has armies, friends, family, shifters, dragons, a faithful dog, a winged horse, and magical tools on his side. But when war comes like a great storm, hurling at him everything from zombies to hateful wizards to twisted drakes, can he hope to prevail—or even survive?