LitPick Review

WATCH THIS LITPICK YOUTUBE BOOK REVIEW VIDEO!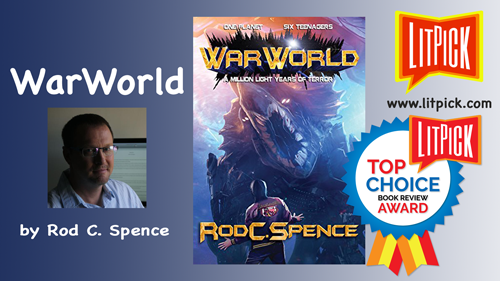 In War World by Rod C. Spence, Rod C. Spence tells an incredible science fiction story about how an invention of wormholes allowing travel through space could lead to a corporation that creates a new world. This corporation starts inventing technology in this desolate world where no other organizations' spies could figure out their secrets. When a group of teenagers' parents suddenly "disappears," they grow suspicious. Where could their parents be? Are they dead? Lost? Each teen has a special talent they bring to the team. But as they progress, it turns out each person also has a secret they're not telling. Does the team have what it takes to rescue their parents?
Opinion:
In my opinion, this book rates up there with Jurassic Park, Star Wars, and all the other amazing sci-fi books. I really enjoyed it and could never figure out what was going to happen next. At first, I thought I could see the plot coming, and then all of a sudden, I was surprised to see the story twist into another unexpected ending! As I read this book, I felt like I knew the characters personally, as if when they were talking to each other they were also talking to me. I enjoyed reading, and in a way watching, how each character overcame problems and bonded with each other, almost as if I were right there next to them. I especially connected with Leo because he was funny and smart, yet an "average" kid at Louisville High School, just like so many of my friends. I give this book 5 stars due to its good plot and amazing characters! I can't wait to read the next book in the series!
Explain your content rating:
A few bad words, but otherwise fine.
KEYWORDS
CHARACTERISTICS AND EMOTIONS:
ACTIVITIES, HOBBIES, PLACES, AND EVENTS: