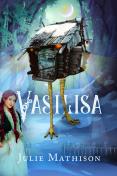 LitPick Review

In a cozy house in the town of Edenfall, PA, a girl named Vasilisa, along with her mother and Babka (grandmother), grieve her pronounced dead father. Not far away, a boy named Ivan sets about his travels, fueled by only the idea of revenge and a promise. Life isn't going the best for Vasilisa. Her father is pronounced dead, lost in the Great War, and now the awful Mr. Goladyen is trying to court her mother. And even worse, her strong Babka is under a spell and seems to be getting weaker. All Vasilisa has to go on are the fairy tales her Babka told her in order to save her from this curse... except they are more than fairy tales. After meeting Ivan, who is looking to avenge the ogre who murdered his father, they both find that there is more truth to these fairy tales than they thought. Together they must venture into the dark woods to seek what they are looking for.
Opinion:
This book takes place in a cozy town, and the author did an amazing job of painting the picture in your mind throughout the book. With the vivid descriptions, I was able to really imagine myself there. However, sometimes the book seemed to drag a bit and went slowly. Near the ending, it quickly sped up with a lot of action in just a few pages. I did like how the book didn't have anything too complicated in it, so it would be a good book for any age. I am generally not a big fan on books with fairy tales, but I found that I really liked this story. There was a nice backstory, and the fairy tale itself wasn't too boring or complex. Overall, I would recommend this book to anyone as long as you are okay with a story with a bit of a slow pace.
Explain your content rating:
This book includes no offensive language/ swears, and is well suited for children.
KEYWORDS
ACTIVITIES, HOBBIES, PLACES, AND EVENTS: