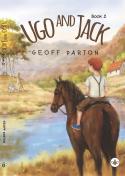 LitPick Review

In this second story of the series, Jack becomes more aware of his role as a spiritual being. Just like in book 1, Jacks learns from his spiritual guide Ugo, but this time Jack takes on the role of becoming a spiritual guide himself. First, he is introduced to his two nephews. Jack is given the task of befriending them and to stop them from falling into a life of crime. This is no easy task because Jack cannot share his secret and must act like a normal child.
Next, Jack is taken to the 1800's. Here he is given the task of guiding a child of a local miner. He has a mission to save the town from a deadly disaster.
Opinion:
Spiritual concepts are difficult to explain especially to children. Through the eyes of Jack and the teachings of Ugo, the reader learns that there is a world beyond our physical realm: a spiritual realm. The author did a wonderful job of further developing Ugo and now Jack's character as an attentive and kind guardian angel.
The author uses Ugo to explain that the concept of time is relative. This is a theory that even adults have trouble wrapping their brains around. Ugo explains that there really is no past-present-future at least not in the way it is perceived in the physical realm. This makes the second book seem like it is two completely separate stories. The main characters remain the same but the mission and location change. It may be difficult for some readers to follow and understand the relationship between the two.
However, middle school age children should be able to appreciate the idea of a realm outside of our physical one. The thought of having a guardian angel to guide us through rough patches in our life is a comforting one.
Explain your content rating:
It takes a reader with a certain level of maturity to understand the complex and abstract concepts introduced in this story.
KEYWORDS
CHARACTERISTICS AND EMOTIONS: