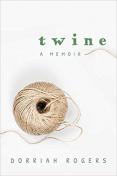 LitPick Review

WATCH THE LITPICK ANIMATED BOOK REVIEW VIDEO!

Author Dorriah Rogers shares her life story cemented in a traumatic childhood in Twine: A Memoir. Jumping around from childhood to her college years to adulthood, Rogers shares the harshest and most heartbreaking details of her life.
In the first few lines, Rogers writes of her stability of her life now yet warns of her intention to spill all of the secrets of her past that even her closest friends never knew about. Then, she proceeds to do just that, sharing stories of physical abuse by her father, emotional neglect by her mother, two failed marriages, a bout with cancer, and more.
Despite all of her hardships and setbacks, though, she is able to find comfort and stability in having pulled herself up by her riding bootstraps and raising a daughter who will never have to know the deplorable living conditions and constant fear in which she herself grew up. But in her refusal to repeat the past, she has to purge herself of its power without forgetting it altogether.
| | |
| --- | --- |
| | Support small bookstores by purchasing this book here through bookshop.org - thank you! |
Opinion:
Twine is a perfect memoir, as compelling as any celebrity's and as well-written as one from any bestselling author. Rogers pours out her soul in intricately long, reflective sentences, which dig deep to not only paint a picture of her external memories but also what each moment felt like to her internally. She's tragic without being melodramatic. She's detailed without droning on. Most of all, she's as honest about her own flaws as she is about her family's.
Every violent encounter with Dorriah's abusive father is heart pounding and suspenseful, always ending worse than you'd expect. He's not a redeeming figure in any sense, nor should he be as he's seen through his traumatized daughter's eyes.
Likewise, Rogers' mother's descent into alcoholism and total submissiveness to her abusive husband ultimately destroys her, and her dying years become the nucleus of Twine, perhaps giving back some of the humanity that was taken from her in that final era of her life. And Rogers' recognition that her younger brother bore the brunt of it was admirable in transferring the reader's sympathy and in giving him credit where credit was due.
I recommend this book to fans of Jeannette Walls' The Glass Castle or any reader who can handle harsh, true stories that prove the power of human endurance and make those who have experienced similar upbringings feel less alone in their own, horrific memories.
Explain your content rating:
Talk of drug use, language, childhood rape, and severe domestic violence.
KEYWORDS
CHARACTERISTICS AND EMOTIONS: