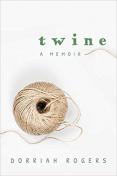 Twine: A Memoir
Composed from a collection of haunting and colorful memories, Twine chronicles the dark journey of a broken family spanning generations.

Sliding effortlessly between past and present, this is the story of Dorriah Burke—a girl raised among California avocados and a bewildering array of dysfunctional family members. As children, trapped between their alcoholic mother and violent father, Dorriah and her brother are faced with untenable choices and lives of ever-increasing lunacy and sorrow.

Now an adult, Dorriah finally escapes across the country with her own daughter in an attempt to restart her life, but the miles aren't enough. Grief-stricken by her mother's rapidly declining health, her father's shocking choices, and her brother's inability to help, she is forced to make a decision: unlock her past and her only hope to overcome her personal demons, or protect her only child from the dark labyrinth of her family history.

Twine is a seductive memoir of shocking narrative power and sweeping honesty. Written with a clever and profane wit and populated by unforgettable and profoundly relatable characters, it is a beautiful narrative that's impossible to put down—a story of agony and loss, betrayal and love, survival and reinvention that never allows the reader to rest for an instant as the story ruthlessly hurtles towards its surprising conclusion.
| | |
| --- | --- |
| | Support small bookstores by purchasing this book here through bookshop.org - thank you! |