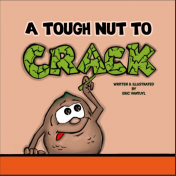 LitPick Review

Mac, the macadamia nut, is different from most of his friends. He is different in the way he dresses, eats, sleeps, and plays. But when it counts, Mac is exactly the kind of friend everyone wants and needs.
Opinion:
A Tough Nut to Crack is a great example of a children's book that mixes life lessons with a creative storyline. It shows that it is okay to be different while also stressing the need to be kind to others and help those around you. The cartoonish illustrations fit the story very well and bright colors make them fun to look at. My one complaint is that the writing style is not very cohesive. It seems that parts of the story rhyme, parts almost rhyme, and parts don't rhyme. A Tough Nut to Crack would be a lot easier to read if all of it was written in the same way. Overall, A Tough Nut to Crack is a good read for ages 3-8.
Explain your content rating:
There is nothing offensive in this book.
KEYWORDS
CHARACTERISTICS AND EMOTIONS:
ACTIVITIES, HOBBIES, PLACES, AND EVENTS: