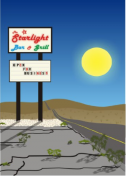 LitPick Review

The Starlight Bar and Grill begins with two brothers, Scottie and Carl, recently reunited following the death of their father. He established a welcoming eatery and filled it with a cast of vibrant characters, but it closed down when the boys were younger. The brothers are back in town and ready to fire up the grill once more. The story unfolds as the brothers learn to live alongside each other and each of their baggage. Along the way, the brothers reestablish this magnificent place where people from all backgrounds gather to celebrate life and all of its facets. Over the course of about 30 years, the brothers learn how to stick together and remain true to family despite the constant evolutions of life. However, one thing will always bring them together, and that is The Starlight Bar and Grill.
Opinion:
The Starlight Bar and Grill is a unique journey. The author takes readers along a bumpy ride of life and depicts some colorful characters that make this book truly alive. The novel shows the difficulties and the celebrations of life and what it means to be human in this world. The author portrays intimate family as an adventure full of joy, anger, and sadness. However, not all of the situations portrayed in the novel were realistic, and most of the dialogue and diction did not flow easily for the reader to understand and believe. Because of these shortcomings, it made the longer novel harder to finish. While these drawbacks made the book difficult to read at times, the author still created valuable lessons throughout the 30-year journey through life.
Explain your content rating:
Language and sexual content and comments.
KEYWORDS
CHARACTERISTICS AND EMOTIONS: