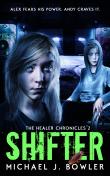 LitPick Review

Shifter (The Healer Chronicles 2) is a exhilarating story about twin boys Alex and Andy, who possess super powers in which they allow Alex to heal any disease known to science and Andy to shift diseases from one living thing to another. Once their powers are combined, they achieve the power of life and death.
Andy, Alex, and many other people have been kidnapped by the U.S military. In order to escape or even to survive, they must decide who to trust and who to fear in order to discover the hidden secrets of this military base. What is the military doing in the middle of nowhere? Why did they kidnap them? Who is the soldier who has mysterious powers?
As they try to figure out how to escape, Alex tries to connect with his long lost twin, who seems so distant and doesn't talk to anyone. Rescue can only come from a hidden person, and soon they will all have to face a deadly secret.
Opinion:
This book was definitely a really exciting book that takes you on a rollercoaster of twists and turns. The author was very descriptive, and I could easily picture what each scene would look like. In the beginning of the book, I was kind of confused at first because the book started with memories from when Andy was still with the Teacher. However, I eventually caught up and started following along. I loved the overall plot of the book, and it all flowed together really nicely. Compared to other books similar to this one, I think this is one I would recommend to someone looking for a page-turner.
Explain your content rating:
There is some more mature content including killing and there is also some scenes with gore.
KEYWORDS
CHARACTERISTICS AND EMOTIONS:
ACTIVITIES, HOBBIES, PLACES, AND EVENTS: