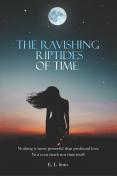 LitPick Review

In 1899, Valentina and her unusual "family" live on a beautiful ranch, raising horses and protecting the mysterious, magical "God Vine." Valentina begins to have visions of a handsome young man, and she knows that their fates are intertwined. However, he doesn't live in the time she is in, which means she has to make use of the power of the "God Vine" in order to be with him.
In 2008, an artist named Alex is trying to focus on completing his next project, so he rents a hacienda in New Mexico for six months. He begins to have dreams/visions of a young woman, but her face is never visible to him. He makes a few friends, and he meets a man who makes him instantly uncomfortable.
In the final battle between darkness and light, which side will be victorious?
Opinion:
I had to sit and ruminate on this one before I could write a review. Overall, it's a fascinating story filled with time travel, immortality, and religion (Native American as well as Catholic).
The first section of the book was filled with Valentina and her "family," setting the scene for the rest of the book. The second section, Alex's story, brought us into the present day and much more "supernatural" stuff happening. While the book held my attention from beginning to end, I was disappointed by a couple of things: I would have liked to have seen more examples of Valentina's powers and to know more of her story between section one and section two.
Alex was never a character I could connect with, which made it difficult to care about what happened to him. I spent much of his section just waiting for Valentina to show up.
The New Mexico setting was also a character in the story, at least for me. It was so well-described that it was easy to put yourself there, both in the past and in the present.
**Note: I am disappointed by the number of typos and grammatical errors.**
KEYWORDS
ACTIVITIES, HOBBIES, PLACES, AND EVENTS: