The Ravishing Riptides of Time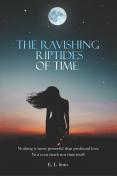 The Ravishing Riptides of Time
Valentina del Viento isn't quite sure if her inherited gifts are a blessing or a curse. The protection of La Viña De Dios (The God Vine), however, relies heavily on her powerful ability to foreshadow and command the winds. When a handsome young man starts showing up in Valentina's visions, she knows she must travel time to find him, no matter how long it may take or the perilous black shadow she brings in doing so. According to the whispers of the wind, he is her true love.

Many years later, newly famous artist, Alex De La Vega, is proud of his new-found success and has only one thing on his mind—complete his next highly anticipated painting. But at night, in the quiet of his fame, a faceless woman haunts his dreams, calling out to him. Could she be what will finally fill the ever-present void within his chest? However, as intrigued as he is by this mysterious woman, Alex knows he must channel all his focus into finishing his art.

To do just that, he travels to Taos, New Mexico. And there, at the luxurious, sprawling hacienda, he discovers something far more significant and valuable. Something relentlessly sought after by a treacherous, malevolent force that will stop at nothing to obtain it: The Divine Liquid—an inimitable elixir with magical, all-healing, life-extending properties. Alex could not have known the power and significance of his find. Or of the danger and peril that comes with it.

In this debut novel, time, religion, love, culture, evil and even the paranormal all collide in this fascinating, epic tale of Magical Realism set in the enchanting, magical land that is Northern New Mexico. If you love Gabriel Garcia Marquez, you will love this book!
Book Details
Genre:
Fantasy
Fiction
Mystery
Paranormal
Romance