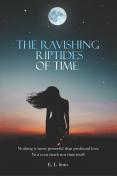 LitPick Review

The Ravishing Riptides of Time by E. L. Soto is a story about finding love or rather love finding a person. Love is powerful; love is timeless. The story is set in Taos and Sante Fe, New Mexico, places which are dear to the heart of the author and that dearness also brings an authenticity to the story. There are two eras intertwined - Part One takes place in 1899 and Part Two takes place in 2008. There is magic, old and new, based on folklore, superstition, and some based on hopes or what could be. There is also conflict and danger, but in the end, the hero wins. The hero of this story is love, which is sometimes lost, sometimes elusive, but throughout shows its power through the characters and their settings.
Opinion:
The Ravishing Riptides of Time by E. L. Soto is a well-written story in which the author's heart for New Mexico really shines through. The descriptions of the landscapes, language, and culture all give the reader a sense that he's been there, he loves it with all his heart, and he wants his readers to love what he loves about it. The characters also feel authentic, from their dialog to how they handle the situations in which they find themselves. The magical powers of the characters were fascinating; the only minor criticism I would have is that I would have loved to see Valentina use her powers. We read descriptions of her using her powers for good purposes, but I found myself waiting for the moment when she would unleash (perhaps on one of the enemies). In the end, I think the story is about love--love's power, timelessness, the pain of love lost, and the joy of love regained. But it also tells us that part of the essence of love is that true love is rarely found but rather love finds us. One of the shimmering facets of love is just that--when Someone loves you, searches for you (even through time!), and finds you, even when you were not looking!
Explain your content rating:
The story contains strong language in places in the story, sexual scenes and descriptions, and some violence.
KEYWORDS
ACTIVITIES, HOBBIES, PLACES, AND EVENTS: