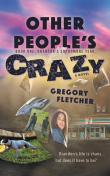 LitPick Review

Other People's Crazy by Gregory Fletcher is a book written from the point of view of a high school boy trying to fit in. The book introduces Brandon as an overweight boy who has some trouble making friends, and therefore he doesn't try. On one particular day, Brandon goes outside to eat lunch, like he does every day, but this time, the smallest kid in class comes flying at him. With the help of a friend, Stuart (the boy who attacked Brandon) posts a video of the fight online. However, he makes it look as though Brandon is the one attacking Stuart, instead of the other way around. In reality, Brandon just stood there and waited while Stuart assaulted him, showing no signs of aggression at all.
Brandon's life turns into a struggle of trying to get over Stuart's acts and still trying to be active in school. Brandon's mom has a different way of viewing life through the form of predictions; to make something happen, you talk like it already happened. For example, "Thank you for helping me with my science test," would help you remember most of the answers on the day of the test.
This thinking is hard for Brandon. He struggles to keep himself from thinking negatively. According to his mom, negative thoughts negate all positive thinking in general. Read Other People's Crazy to find out if Brandon can fight through this tough situation and whether or not he uses his mom's predictions to solve his problems.
Opinion:
This book was a very enjoyable read. It hooks you early and doesn't waste time on boring details. I loved the different characters' personalities and how they fit into what a normal society would look like, instead of a perfect one that's unreasonable. Throughout the storyline, I could see the characters progress in their learning, making it more realistic and therefore, more engaging. Overall, this was a fantastic book and will become a permanent staple of my bookshelf. This book was one of the best books I have read, and I give it 5 out of 5 stars. Other People's Crazy by Gregory Fletcher is a great book that I recommend for 13-15-year-olds since it has some language not suitable for younger readers.
Explain your content rating:
There is some language not suitable for younger readers
KEYWORDS
ACTIVITIES, HOBBIES, PLACES, AND EVENTS: