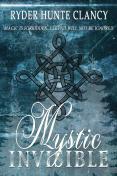 LitPick Review

Mystic Invisible by Ryder Hunte Clancy is a fantasy story about a young boy named Monte. Monte belongs to a wizard family. His parents work for the IMB, a special investigation unit of the wizarding world. Monte and his family must travel to Scotland where old witch tales are actually true. Monte's parents, Mr. and Mrs. Darrow, with help from Monte's uncle must investigate the mysterious disappearance of young boys on the Ben Nevis. The wizards and witches know it's the work of the ancient Cat Sith. The "Norms" (the wizarding word for unmagical people) are also terrified and puzzled. Monte, along with his gallant brother Garrick, his new friend Finn, and the mysterious girl Cameron, is thrust into a perilous adventure. They will need each other to defeat the great mystic evil of the Cat Sith. Monte himself will become the wizard he was meant to be in the process.
Opinion:
Mystic Invisible by Ryder Hunte Clancy will undoubtedly be compared to Harry Potter, not without warrant, because there are many similarities. However, the novel itself is set apart in several ways. The setting isn't a world where wizards and witches exist in a separate domain from regular people. Instead, they all live and work together in the same world. The "Norms" go about their lives, oblivious to the magical domain and magical perils around them. The writer also brilliantly draws from Scottish folklore while keeping the story, dialogue, and characters fresh for the present. The conversations between the young teenagers seemed particularly authentic. Teenagers often struggle to express what they're really feeling, they use awkward glances, and are often frustrated by things they say or things said to them. The writer captures these things quite well. I especially enjoyed reading the descriptions of Monte's thoughts about the group of teens on the field (such as "Blue braids" and "Eyeliner"). Mystic Invisible was an enjoyable read, and I hope there are more stories about Monte and the Darrow family to follow.
Explain your content rating:
There may be some occurrences of stronger language. There are some perilous scenarios and wizard fighting. It's appropriate for a 12+ rating.
KEYWORDS
CHARACTERISTICS AND EMOTIONS:
ACTIVITIES, HOBBIES, PLACES, AND EVENTS: