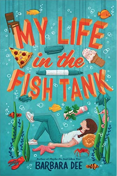 LitPick Review

There are some things you just can't tell anyone, not even your best friends. When Zinnia Manning's older brother, Gabriel, gets into an "accident" while he is away at college, he is diagnosed with a mental illness and sent to a hospital. No one knows when he can come home or if he will be okay. Zinnia's life seems to be collateral damage.
With Mom and Dad busy running back and forth to the hospital, Zinnia takes on more responsibility, including helping her little brother, Aiden, decide what to study for his school "How to…" assignment. Who knew there were so many options? Unfortunately, this means she has even less time to spend with her two best friends, Kailani and Maisie. She also can't tell them about Gabriel's "condition." What would they think? She can already tell she is being replaced. If only there was a demonstration for how to deal with her problems, or someone who understood what she was going through. That's where Lunch Club comes in: five kids, each with a different set of problems. What could go wrong? Or, a better question: What could go right?
Opinion:
My Life in the Fish Tank tells the story of a girl trying to navigate the waters of friends, school, family, and mental health. It validates all Zinnia's emotions while breaking down stigmas related to mental health. At times, it can be a tough book to read because of the intense and deeply personal challenges the main character faces. It contains wonderful imagery and word choice that pulls on your heartstrings. I think My Life in a Fish Tank is eye-opening and should be on the list of books that everyone needs to read at some point in their life. It changes the way you see people. After all, everyone has something going on beneath the surface.
Explain your content rating:
The main character's older brother attempts suicide. Although no graphic details are mentioned, this can be a sensitive topic.
KEYWORDS
CHARACTERISTICS AND EMOTIONS:
ACTIVITIES, HOBBIES, PLACES, AND EVENTS: