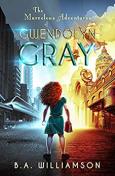 LitPick Review

Gwendolyn Gray lives in The City devoid of imagination and color. Her school is designed to prepare children for adult life, and children learn by staring into marble-like machines called Lambents, which control their brains, stripping them of all individual ideas, creativity, and free-thinking.
Twelve-year-old Gwendolyn can't seem to fit in with her classmates. She refuses to use the Lambents, insisting they give her a headache and make her eyes itch. Gwendolyn is not ordinary--not at all. One day, she discovers that she can create things from her imagination, making them real. Gwendolyn somehow causes rabbit ears to sprout from her classmate's head, and she suddenly finds herself being chased by two frightful people, the Faceless Gentlemen, who want to erase Gwendolyn and her strange creations.
Soon, she meets Sparrow and Starling, a brother and sister from another world who are trying to find their way home, and Gwendolyn finds herself in a colorful, new world. With airship pirates, interesting inventions, and dangerous creatures, this new world seems to come right out of a fairy tale. Gwendolyn and her new friends are in danger, and now she must find a way to stop the Faceless Gentlemen and a horrible creature called the Abscess before both her old home and her new world are destroyed.
Opinion:
I loved this book! It's a dystopian fantasy with many twists. Follow Gwendolyn Gray on an extraordinary adventure as she discovers just how much more her life has to offer. With vivid characters and clever word-play plus a touch of romance, this is a fast-paced, unique, and unforgettable story.
Explain your content rating:
There is some mild violence, bullying, and some mature content. Ages 10+
KEYWORDS
CHARACTERISTICS AND EMOTIONS:
ACTIVITIES, HOBBIES, PLACES, AND EVENTS: