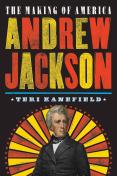 Genre -
Historical Nonfiction
LitPick Review

This book is one in the series of The Making of America Series. This volume is about Andrew Jackson and his life and times. Andrew Jackson written by Teri Kanefield gives Andrew Jackson's life right from cradle to grave. Ms. Kanefield marks all Andrew Jackson's milestones from his education, marriage, career, military, and political aspirations. Andrew Jackson also had his own way of writing his views of living in his time; at the end of the book, there were selected writings from Andrew Jackson that expressed his views.
Opinion:
Andrew Jackson in this series written by Teri Kanefield is a biography that even adults will enjoy reading as well as younger readers. This is a good book series to use for classroom reads and discussions when covering the presidents and their times. I really liked how Ms. Kanefield mixed in various aspects our present government and political issues, and ways when she described the old Democrat Republican party as a single entity and now separate. She shows all these probable lessons in blocks of various sizes to explore a point that covered the past with the present. The Making of America Series is one that should be used in the schools or to be continued to be used by teachers at least for various history lessons.
Explain your content rating:
This is a good beginning history book.
KEYWORDS
CHARACTERISTICS AND EMOTIONS:
ACTIVITIES, HOBBIES, PLACES, AND EVENTS: