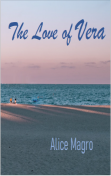 Age Range -
Mature Young Adult
LitPick Review

The Love of Vera by Alice Magro is a contemporary romance fiction based on deep thoughts and values of profound love. Gino and Vera are distant cousins who are in love and had suffered the loss of parents. Brought up in a wealthy family with mafia connections, the setting of this book is partly like the acclaimed Godfather series. It takes you on a journey full of romance, action, and adventure. We get to witness love stories from two generations - of Gino and Vera, and uncle Armando and aunt Yolanda. Vera's college life and her relationship with Gino is well documented in the pages. A trip to Europe changes the pace of the story as Gino finds himself in the middle of unwanted terrorist attention. It is in the reconciliation of the plot towards the end which brings joy in the hearts of readers as the author ends this wonderful novel like a camera roll concluding the lives of major characters in a movie-like fashion.
Opinion:
Alice Magro has done a beautiful job with this story which convincingly challenges societal norms. The conversations between all major characters throw light upon many schools of thought. Many morals and ethics behind traditional practices are not only questioned but resolved in a friendly manner. The characters are spontaneous and their feelings speak volumes about human emotions. Everyone has a role to play in shaping the future course of action. Be it Father Brennan or the peers, the author has touched upon the interests, hobbies, capabilities, and insights of all protagonists bringing the development arc in a full circle. There is also some balanced but significant action in the plot. The gunfights, kill, firing, and injuries add some flavour away from the typical love stories. I thoroughly enjoyed reading this book and feel it has the potential to become a comprehensive script in a quality film. The universe has its way of compensating for unrequited love.
Explain your content rating:
This book may contain some profanity, sexual comments, and references to drugs and alcohol. Parents, teachers, and librarians may want to read these books before recommending them to a student.
KEYWORDS
CHARACTERISTICS AND EMOTIONS:
ACTIVITIES, HOBBIES, PLACES, AND EVENTS: