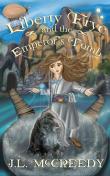 LitPick Review

WATCH THE LITPICK BOOK BRIEF VIDEO ON YOUTUBE!

Eleven-year-old Liberty Frye and the rest of the gang are back in Liberty Frye and the Emperor's Tomb. It has been two months since Liberty (or Libby, for short) accidentally traveled back in time to 1871, with Sal, Uncle Frank, Ginny, Buttercup, and Esmerelda in tow. When we last left our heroes, they just had an unfortunate encounter involving pirates and angry islanders. Afterward, they set off in search of the mysterious man known simply as "The Wizard," in the hopes that he knows how to transport them back to their own time.
Now, the band finally reaches China and they are ready to begin their search, but soon many unusual things begin to happen. When Libby and Ginny go ashore in a rowboat to find clothes to fit in with the locals, they are met by an old woman the moment they pull up. The mysterious woman hands the girls the very clothes they were planning to find, which confuses them tremendously. Not understanding how the woman could have known they were coming, the girls are about to question her, but at that moment a girl jumps up from hiding nearby and takes off running. Struck by the sudden certainty that this girl is important to their quest, Libby sprints after her. Libby finds the girl and asks her numerous questions but only ends up more confused than she was before.
She and Ginny make it back to the ship, with many uncertainties filling their heads. The next day brings even more confusion when even after moving the ship, Libby and the gang find a group of people gathered on the new shore. These people claim they were sent by the Wizard and can bring only Libby and Uncle Frank to greet him. This should bring delight to the group because it would mean their expedition is almost at an end. Instead, it only causes unease and raises even more questions. How could the Wizard have known where they were, and further still, why are only Libby and Uncle Frank invited to meet him? Perhaps the most important question of all might be is he even to be trusted?
Opinion:
Action, magic, and loads of suspense. Those are the elements in store for readers of J. L. McCreedy's Liberty Frye and the Emperor's Tomb. I was absolutely blown away by this third installment in the Liberty Frye series. It definitely did its predecessors justice and helped to tie the series together, making for a truly exciting story.
In addition to tying the books together, it gave one of the first book's main characters a much-needed backstory. All the other characters were taken even further in their development, too. This additional character development aided in making the characters more real; I could truly believe Libby's struggle to understand and contain her powers, while her worry for her mother was palpable.
The plot was also very exciting and was made up of many original ideas, such as a new take on how the Terra Cotta Warriors came to be. These ideas worked extremely well and made for a new and unique plot. It was written in such a way as to keep the reader hooked from start to finish. All in all, I'm not sure I would recommend reading this book without first reading the other two in the series; I feel like it would be quite confusing to read it without the background of the other books. With that in mind, I would certainly recommend reading this series as a whole to anyone ages 11 and up who enjoys reading daring adventure stories filled with magic.
Explain your content rating:
I can't think of any mature content in this book.
KEYWORDS
CHARACTERISTICS AND EMOTIONS:
ACTIVITIES, HOBBIES, PLACES, AND EVENTS: