Liberty Frye and the Emperor's Tomb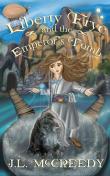 Liberty Frye and the Emperor's Tomb
In 1871, pirates roam the South Seas, mystics hide in shape-shifting caves, and the crew members of the Liberté are very, very far from home. Almost 150 years far, to be slightly more precise, and their last hope of returning to their own time hinges on an invisible wizard … dwelling somewhere on a mountaintop in China … who may or may not hold the secrets to time travel. So, yeah. It's complicated.
Also, do witches and wizards even get along? It's a tricky question, and one that Liberty Frye—a newbie witch with decidedly unpredictable powers—isn't eager to sort out. It could get awkward.
Join Libby, her best friend Ginny, and their motley crew consisting of Uncle Frank, a pet goose, a cantankerous World War II pilot and a temperamental robot on their quest to find a way back home. Success is anything but certain. After all, things tend to go awry when Libby is around….
Book Details
Genre:
Adventure
Fantasy
Juvenile Fiction