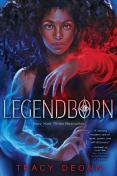 LitPick Review

Legendborn, by Tracy Deonn, is a fantastic novel about a young woman named Bree Mathews. Bree is currently attending an early acceptance program for high school students at a college in Carolina. Although an exciting privilege and one she was proud to be a part of, she, too, was having to cope with the recent loss of her mother, a heart wrenching event that made happiness seem nearly impossible.
While trying to escape the grief of losing her mother, Bree begins to realize that she is surrounded by creatures of another world as she witnesses a group of warriors killing a creature that should only exist in books. After witnessing this attack, one of the warriors uses "magic'' to make Bree amnesic to the event she just witnessed. What the warrior did not plan on, however, was that his efforts did not hinder Bree's memory at all.
As Bree continues to replay the event she witnessed over and over again, she begins to recollect specific details from the evening her mother passed away. As her recollections become stronger, she begins to feel as though these warriors are somehow connected to her mother's death.
As the story progresses, Bree discovers that these warriors are descendants of King Arthur. This information enhances her determination to get answers about her mother's death, why she has come to find these warriors, and why the "magic" projected onto her did not make her forget what she saw. In effort to do this, she decides she must insert herself into this newfound world to find answers. In order to do this, Bree must team up with a young man named Nick who is a member of this group called the Legendborn. Legendborn members are the descendants of King Arthur, and their purpose is to battle evil and those who support it. With the help of Nick and his group, Bree begins to work toward putting the shattered pieces of her life back together again while learning what the various pieces mean.
Opinion:
When I picked up Legendborn, by Tracy Deonn, I had reservations for fantasy is a difficult genre to write and intrigue the reader(s). This novel, however, immediately put me at ease within the first few chapters. The author's writing style was so descriptive and engaging. She created such a gripping storyline that my intrigue was heightened from the beginning.
This book's greatness exceeded my expectations throughout its entirety. I absolutely loved this book, and I can not wait for the next installment in the series.
The magic system and fantasy world in this book is based on the author's imagination as well as the legends of King Arthur and his round table. The magic system is very detailed and well-orchestrated. I found the magic system to be so fascinating! I loved the characters the author created as their personalities and interactions with one another painted such vivid imagery for me as the reader. She balanced grief with the ability to persevere through loss, the development of new relationships with the loss of others, and the evolution of love during a journey filled with fantasy.
Bree was such a genuine character during this book. She was intelligent, sassy, and strong-willed. Her character traits that presented as the storyline evolved enhanced her strength and made her more and more intriguing to the reader. In addition, Nick served as such a complimenting character as his loyalty and devotion toward those he cared for was evident.
I highly enjoyed reading Legendborn by Tracy Deonn. This book deserves to be placed on a top fantasy books of 2020 list!
Explain your content rating:
The characters in this book participate in adult activities such as kissing and swearing. There are physical altercations among the fantasy creatures as well as memory recollection of a past act of sexual violence.
KEYWORDS
CHARACTERISTICS AND EMOTIONS:
ACTIVITIES, HOBBIES, PLACES, AND EVENTS: