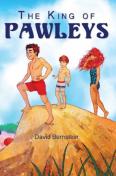 LitPick Review

The King of Pawleys is a humorous story about a boy named Peter and his family, who take a trip to Pawleys Island every year. This year, they see a girl on the beach, and she is about Peter's age. They eventually make conversation and learn her name is Ali. Little does Ali know that her brother, Brian, is going to get really hurt.
Peter wakes up at night to a lot of screaming. He looks out the window to see a kid is punching and kicking others. Over and over again, someone keeps targeting kids, including Ali's brother, Brian.
Opinion:
The King of Pawleys is a book I would read over and over again just to know what happens next. It is a story full of adventure, humor, life lessons, and so much more. I love this book because of its meaning and how it shows readers that they can accomplish their dreams if they try.
The King of Pawleys teaches me that when I try my best, I can find out new things about myself and others around me. This is a fairly easy read but with great detail and descriptions that make the reader feel as if he or she were "in the book." The King of Pawleys has a great variety of characters who are different and know it, but decide to become friends anyway. I recommend this book to kids ages 8 through 12 who love adventure and trying new things.
Explain your content rating:
A little bit of bullying, but nothing too bad
KEYWORDS
CHARACTERISTICS AND EMOTIONS:
ACTIVITIES, HOBBIES, PLACES, AND EVENTS: