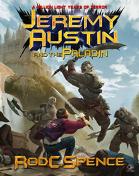 Book Review

When their parents go missing after traveling through a portal to the planet Genesis, six very different teenagers embark on a rescue mission to find them and bring them home. The planet is populated with a collection of dangerous mythological creatures, monsters, and aliens, man-eating gnomes being the most dangerous of all. With the help of a wizard, some princesses, and knights, the kids fight to stay alive while holding out hope that their parents are as well. A team of super-armed soldiers from Meta Universal are also on the hunt for the missing scientists. But what the teens don't realize is that they too have special abilities that will help to defend themselves and the free lands from this multitude of enemies. The most unlikely hero is Jeremy Austin who, while a seemingly ordinary kid, is suspected to be the Paladin, the one destined to save them all.
Opinion:
Jeremy Austin and the Paladin is the sequel to Rod C. Spence's first book in the series, Jeremy Austin and the War World. Despite picking up directly where the first book left off, this story quickly catches the reader up while moving the story forward in the midst of this dangerous search and rescue operation. This series pays homage to every major sci-fi and fantasy story ever written, from The Lord of the Rings to Planet of the Apes, Jurassic Park, The Sword in the Stone, and more while remaining its own unique story.
Despite its numerous fantasy elements, the human teenagers help to ground the story in reality with their hesitance, determination, and humor. Their modern, youthful dialogue helps to counter the heavy, medieval language spoken by the creatures and characters on Genesis. The reader roots for them as their untapped potential starts begins to emerge, and their teenage hopes, fears, and observations make them relatable and distinct.
However, the story isn't sugar-coated just because it features young characters. The stakes are high from the beginning. Each character endures their share of torture, and the threat of a slow and painful death is always imminent. There are also numerous battle sequences that are explained with high energy and in brutal detail.
My biggest issue while reading was keeping track of the large collection of characters and the parts they play in the story, particularly the royals and warriors assisting the teens on their quest while trying to save their own land from attacks. The action sequences can also get weighty and confusing as the story juggles between trying to describe its fantasy setting and each side's maneuvers.
I would recommend this book to anyone who loves sci-fi and fantasy stories. This story uses all of the classic creatures, scientific theories, and supernatural abilities in its own unique way that leaves readers anticipating where book three will take them next.
Explain your content rating:
There are several battle sequences, scenes of torture, brutal deaths, loss of limbs, and threats of rape.
KEYWORDS
CHARACTERISTICS AND EMOTIONS:
ACTIVITIES, HOBBIES, PLACES, AND EVENTS: